If you're a landlord or investor, you're probably no stranger to the success of Dubai's property market – but as a rapidly evolving global hub, you may also struggle to keep up with the best opportunities to maximise your profit. A frequent question landlords have is "should I rent my property as a holiday home or stick to a long term tenant?"
To help you make an informed decision, we asked our short term leasing director Emma Campbell and long term leasing director Thomas Poulson to explain the most important aspects of each rental approach.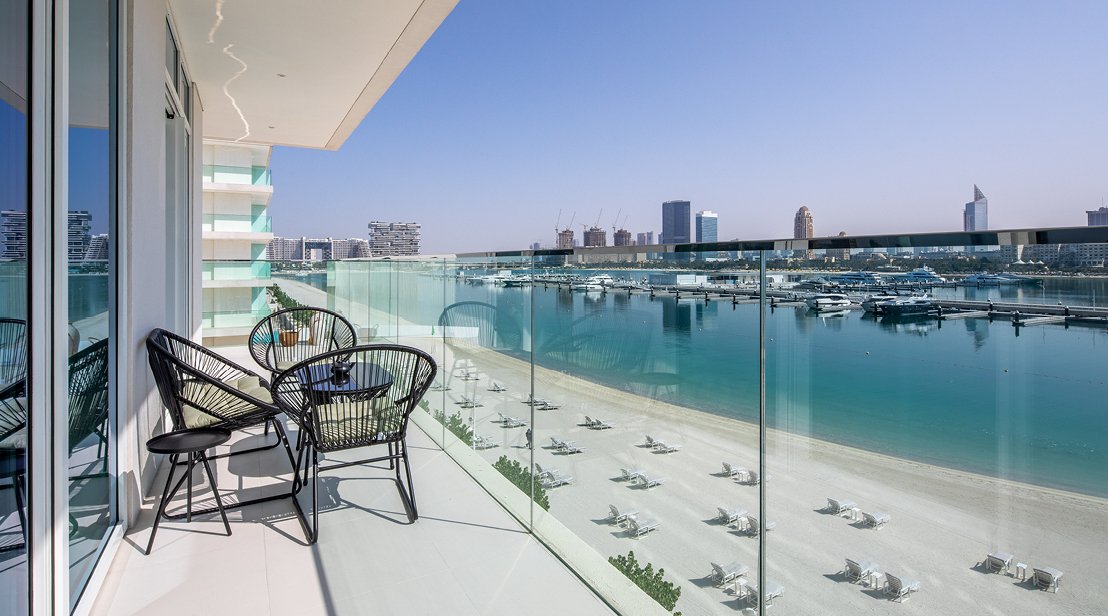 Short term rentals

The impact of the Dubai Expo and the fast approaching Qatar World Cup – which is expected to see around 1 million visitors seek holiday homes in Dubai – means there is a highly favourable environment for short term rentals (also known as holiday homes), causing more investors to eye opportunities.
The ongoing pandemic has also helped boost this segment, with more tourists and families choosing holiday homes instead of busy hotels to safeguard their health.

A big advantage of leasing your property for short term is the ability to fluctuate the prices according to the market and season, helping you earn about 20 per cent more income than you would with a steady rent.

The flexibility of using the property yourself is another big plus that has steered many landlords in this direction. In between tenants and guests, you can enjoy your holiday home and invite some friends and family – it's your home after all!

Keep in mind that turning your property into a short term rental will require furnishing as tourists and business travellers tend to look for a space with all the amenities and comforts. Another important aspect of becoming a short term landlord is that the ROI of your holiday property will likely rely on its location – visitors will be more inclined towards popular tourist areas like Downtown Dubai, JBR, Palm Jumeirah, and Bluewaters.

Managing tenants for a short term rental also requires more coordination like advertising the property's availability, offering tenant support and arranging arrivals, departures and housekeeping.

It's helpful to have the property managed on your behalf by an experienced holiday and short term rental agency. They can take care of all the logistics, ensure your property is well maintained and even arrange the marketing and advertising strategies. A good team will be able to help you with everything from furnishing the property to providing 24 hour guest support and dealing with utilities. With this kind of support, short term leasing can be an easy and profitable investment choice.
Long term rentals

In January 2022, we saw over 51,000 long term rental contracts in the Dubai property market with an even split between new and renewal contracts, according to a report in Khaleej Times.

You may already have experience with long term leasing, or perhaps you are looking for more answers before you try it out. The most highlighting aspect is the fact that these rentals ensure a steady rent for both the landlord and tenant, with the costs locked in for the year. Guaranteed rent for one year means easier financial planning, with predictable cashflow and no void periods.

Another great aspect is that long term rentals don't rely on high occupancy rates, which would otherwise negatively impact the profit during low holiday seasons.

Long term landlords also claim to experience less general wear on the property, as there is only one tenant for the year – this may result in lower management costs.

These types of rentals are commonly unfurnished or partially furnished, so you can expect little to no furnishing costs here. You can choose to furnish the entire property, but it's not necessary as tenants usually look forward to customising the space during their stay – in fact, it's not unusual for long term tenants to even have some areas refurbished at their own expense.

You can expect a high ROI regardless of the location of your property, as every area in Dubai is popular for long term leases. What's more, a large sector of the Dubai property market is villa communities – these are the areas that typically attract more expat families who see their medium to long term future in Dubai, and therefore tend to be a much more secure tenant for a landlord renting their property on a long term basis.


So, which one to choose?

Both short term and long term rentals represent great benefits for landlords in Dubai – ultimately, it all depends on your particular journey and expectations.

The guidance of a professional real estate agency with strong market experience will ensure you find exactly what you're looking for – whether that's a change in your strategy, a team to manage your property, or personalised guidance on your next steps to maximise your income.

The current market trends in Dubai offer great opportunities regardless of the path you choose to take – so your investment will likely be profitable in this bustling city.
Want to get the most out of your rental property? Get in touch with our team of experts to get a free consultation and personalised advice.