When I was an estate agent in the UK, a new Waitrose in town could increase the value of your property by thousands of pounds. Here in Dubai, it's not so much the supermarket effect as the supermall effect that drives demand. Increasingly, developers are building spectacular commercial spaces designed to trigger demand for nearby properties – old and new. Here's my guide to the latest in mall power.


The established supermall – Dubai's unique brand of glamour

The supermall is all part of Dubai's signature luxury lifestyle, where high fashion fuses with big name tech brands, designer homewares, endless dining options and adventurous leisure experiences. Here, you can even stay mall-side at a glitzy 5 star hotel of your choice.
While malls may come and go, for me, the ultimate supermall is still Dubai Mall. Its vast, glittering atrium, extravagant stores and legendary fountain sum up the affluent tribe of buyers that flock to Downtown perfectly. Just when I thought it couldn't get any better, along came a 150 unit extension of Fashion Avenue, including Gucci's 3 storey flagship complete with VIP changing rooms.
From the heavenly scents of the fragrance counter at Galleries Lafayette to the earthly pleasures of a burger at Mighty Quinn, the delights of Dubai Mall are only an elevator ride away from properties like this fully serviced 2 bed apartment for sale at The Address. The haus & haus lettings brokers will tell you that demand for Downtown rental property directly linked to Dubai Mall is currently pretty healthy too. This property is forecast to yield around AED 300,000 net rental income a year; buy to let investors take note!


Groundbreaking master plans for the new age of supermalls

A brand new shopping multiplex is a clear sign that an area is 'up and coming'. Those words are like honey to the bee for buyers who want to stake their claim in a community before prices soar. I'm thinking in particular of the new off plan properties for sale in Dubai Hill Estate, which will soon be serviced by the Dubai Hills Mall, courtesy of Emaar Properties.
The Dubai Hills Estate is an appealing property mix of stylish affordability and all-out luxury that caters equally to mid-range buyers and high net worth investors. Its master plan is also groundbreaking because for the first time, you can choose between a penthouse apartment and a 7 bedroom villa with garden, just a short walk from the mall. This is a huge shift when you consider the urban high-rise landscape surrounding Dubai's older-style malls.
It's also interesting how the fortunes of other sectors link to the arrival of a new supermall. The Dubai Hills Mall became a case in point when the Kings School at Al Barsha recently opened nearby. It's not hard to see why Dubai's most exclusive educational franchise identified this spot as the perfect location for its next venture. Emaar's designs for a central courtyard and 'streetscape' inspired layout of over 750 premium retail and dining outlets, a cineplex, hypermarket and concert venue suggest the completed mall will be as chic as it is capacious. Maintaining the impeccable quality of its developments well into the future is also an Emaar speciality. I'm in no doubt that The Dubai Hills Mall has set the tone for the clientele that will live nearby even before it opens its doors.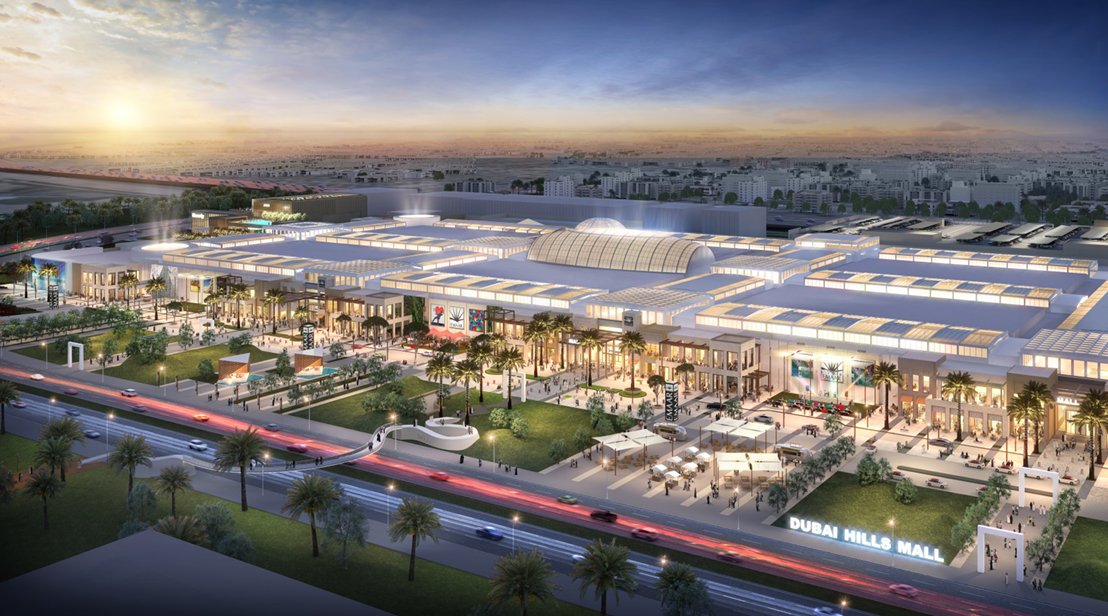 "A brand new shopping multiplex is a clear sign that an area is 'up and coming'. Those words are like honey to the bee for buyers who want to stake their claim in a community before prices soar." Luke Remington, Managing Director of haus & haus
The cool mall – a very good thing

When temperatures reach 30 degrees or more, you have to head for the air-con. So having one of Dubai's airy malls with their plethora of air-cooled amusements on the doorstep is a highly sought after convenience for expat family buyers and tenants. Together with the obvious skiing (Mall of the Emirates) and ice-skating (Dubai Mall), you can also escape from the midday heat in a mall by going to the theatre, catching a movie or visiting an aquarium. With so many relaxed restaurants, the mall is also a mainstay of family friendly brunches in Dubai. For me though, nothing says it better than the sight of Dubai's mall walkers, who take their power walk in the cool of the mall from April – November. Driven by the needs of an expat population, the Dubai mall is a truly unique phenomenon.
For some Dubai dwellers, a mall 'on the doorstep' actually means a short drive away. For example, demand for a villa in Umm Suqeim is high, thanks to the easy 5 minute drive to amenities at Mall of the Emirates, shopping emporiums at Al Quoz and specialist malls like the Gold and Diamond Park (also home to the haus & haus headquarters).
A total of 7 new malls are scheduled to open in Dubai by 2020, so if you don't live near a mall now, it's likely you will before long. Those of us living in Arabian Ranches properties, for example, can now look forward to shopping just 10 minutes away by car at The Dubai Hills Mall. This adds a fresh layer of appeal to beautiful villas and townhouses in The Ranches, together with properties for sale or rent in the neighbouring Sports and Motor Cities.


The supermall – a global destination

With its international reputation for retail, Dubai has attracted the world's most committed shoppers for years. Nowadays, it's not so much the prospect of a week long shopping trip that brings high net worth tourists, but an entire shopping season, thanks to the arrival of The Dubai Shopping Festival. The annual festival begins just before the Christmas holiday period, with events lasting until April. Together with the shopping pop ups and cultural experiences that take place around the City, its supermalls play a central role at festival time, featuring multiple promotions and discounts on designer brands.
One of the outcomes of the shopping festival is a spike in demand for short term luxury lets. With an expert Property Manager onsite, this type of buy to let investment can be lucrative for both overseas and domestic landlords. Competitive payment plans are one way that buy to let investment in prime locations is becoming more achievable; just take a look at the installment options for this beachfront residence, right next door to Dubai Marina Mall.

We also see buyers from China to the USA purchasing luxury pied à terres kept especially for the shopping festival, which also coincides with the winter sun holiday season. This emerging trend amongst overseas buyers shows retail to be a key economic driver
I'm proud to say that at haus & haus, we're always on trend. If you're reading up on real estate sales and leasing in Dubai, you'll find we've tried and tested the latest market shifts already. Take a look at our news section for more award-winning insights, or get in touch – we'd love to talk.