In the last few months we have noticed a surge in the off plan branded residential sales sector, mostly driven by demand from HNWIs. According to analysts, Dubai currently has the most branded residential completed and under construction projects in the world, which draws even more attention to the emirate's luxury property market.
Branded properties are created by world famous names such as hotel chains and haute couture designers. As you might expect, they offer luxurious amenities, elegant finishes, and services inspired by five star hotels.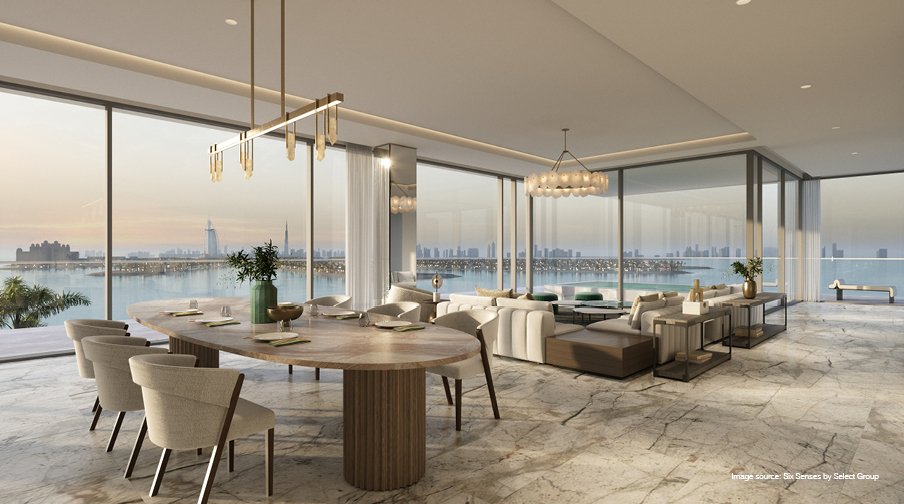 Buyers and investors can find a wide range of property types, from stylish apartments to jaw-dropping mega mansions. For example, the stunning Six Senses Residences in Palm Jumeirah – a collection of resort-style waterfront apartments with exclusive amenities for residents.

We recently sold an impressive property for AED 26.2M in the building, boasting high end interiors, panoramic views of the Arabian Sea, and hotel-like services.

Set for completion in December 2024 and situated at one of Dubai's most popular locations, Six Senses Residences offers a gorgeous collection of homes designed to the highest specifications.

Another recent haus & haus sale was in Grand Bleu Tower – the world's first Elie Saab designer building – where we sold a luxury apartment for AED 13M.


"People love branded properties because of their high level of exclusivity, including hotel style amenities and luxury interiors from some of the world's most outstanding designers. It really does take luxury living to the next level," said Adrian Shillingford, Sales Manager – Emirates Living, haus & haus Real Estate.

"Buyers are always looking for the next big thing, and branded residences tick every box for most of them. I predict this will be a hot Dubai real estate trend to watch out for in 2023."

If you'd like to get in on this booming trend or just want to explore the possibilities, check out the newest residential launches here. Got more questions? Reach out to our Off Plan & Investment specialists for a personalised consultation.