What is an Expo
An Expo brings the world together in a grand and common project to find solutions to a fundamental challenge facing humanity. This challenge is addressed via the Expo's theme, which acts as a springboard for what participants will showcase and what cultural events will be organised.
In their individual pavilions, countries display and showcase technological innovations and national cultures, engaging with visitors to craft a positive and distinctive national identity. Expos have a transformative power in shaping perceptions of nations and cultures, increasing awareness of the host country and international participants by helping to shape and enhance a nation's image and reputation.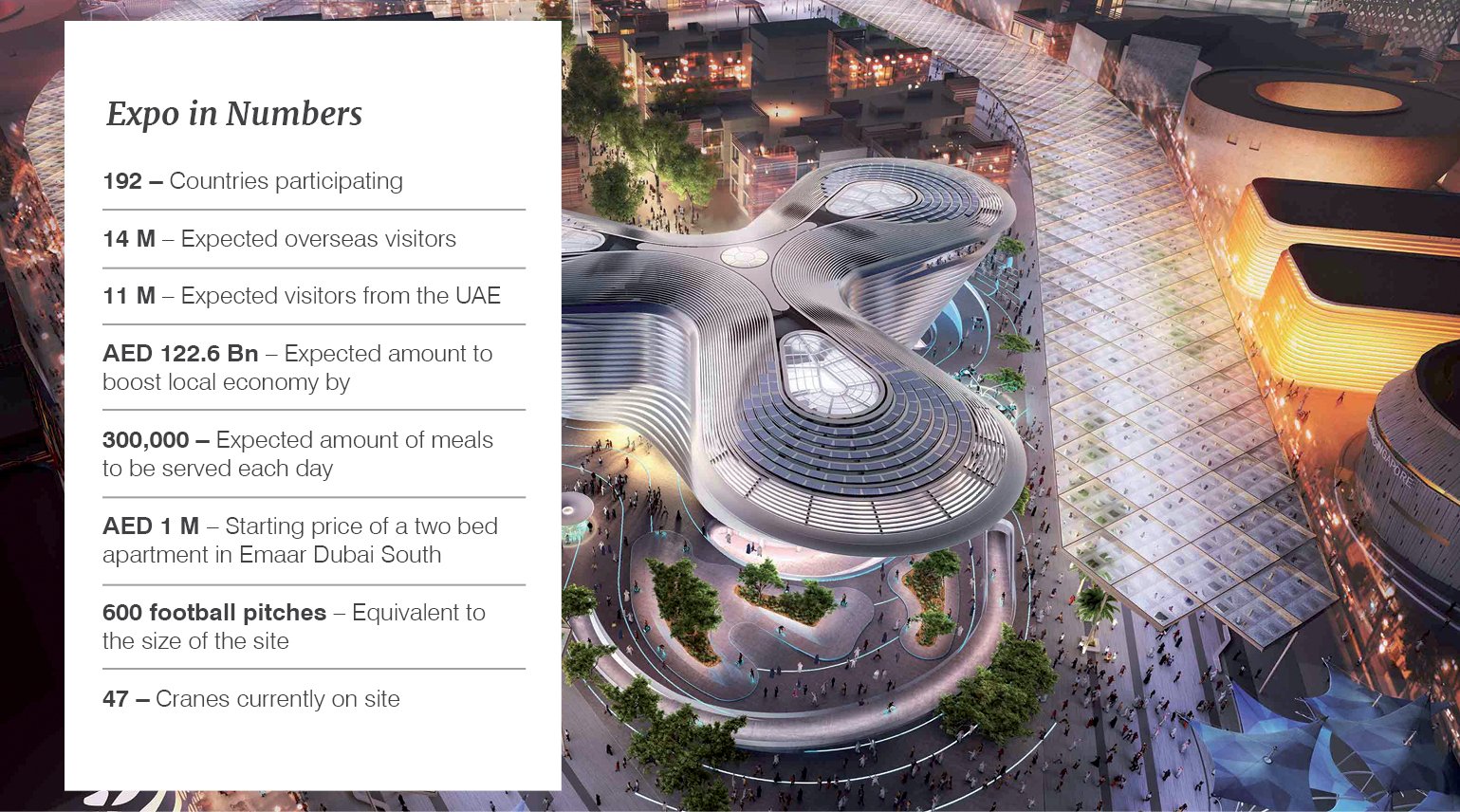 What to expect at Expo 2020

Dubai will host the world for 173 days, 7 days a week, with each day bringing a new eye catching experience or a new mind bending experience from 192 participating countries. Consisting of live performances, global celebrations, health and happiness, business ideas, arts and culture, over 200 food outlets, which will all contribute towards the grand theme of Expo 2020...Connecting minds, creating the future through opportunity, mobility and sustainability. Ground breaking architecture at every turn and Dubai wouldn't be Dubai without some of the world's biggest and worlds best attractions being showcased. Designed in the shape of a falcon the UAE pavilion will be the centre attraction at the Expo 2020, introducing the world to the nations rich culture and bright future, telling the history and the vision of its leaders to create a progressive society with ambitious plans for the future.
After Expo 2020

Working in real estate, one of the questions often asked, is "what will happen after Expo Ben?" It seems people have a fear that there's been all this build up, it will happen and then just disappear. Not the case. In line with the Expo 2020 sub theme of sustainability, 80% of the buildings and structures on site will find life in the thriving future city of District 2020, leaving a meaningful and lasting legacy. It will become a vibrant residential neighbourhood with businesses, retail, and F&B, a place where businesses of all sizes set to thrive, social with cultural and educational facilities to teach the generation of tomorrow. It will be home to the world largest international airport. Surrounding communities are set to prosper. Ask yourself, why do you think Emaar, one of the biggest developers in the world are building their Emaar South community next to the Expo 2020 site?

Insights from Ben Brooks, Off Plan & Investment Consultant at haus & haus
ben@hausandhaus.com | +971 56 950 1782

Are you looking for investment opportunities in the real estate market? Speak to us today and get your free impartial advice.