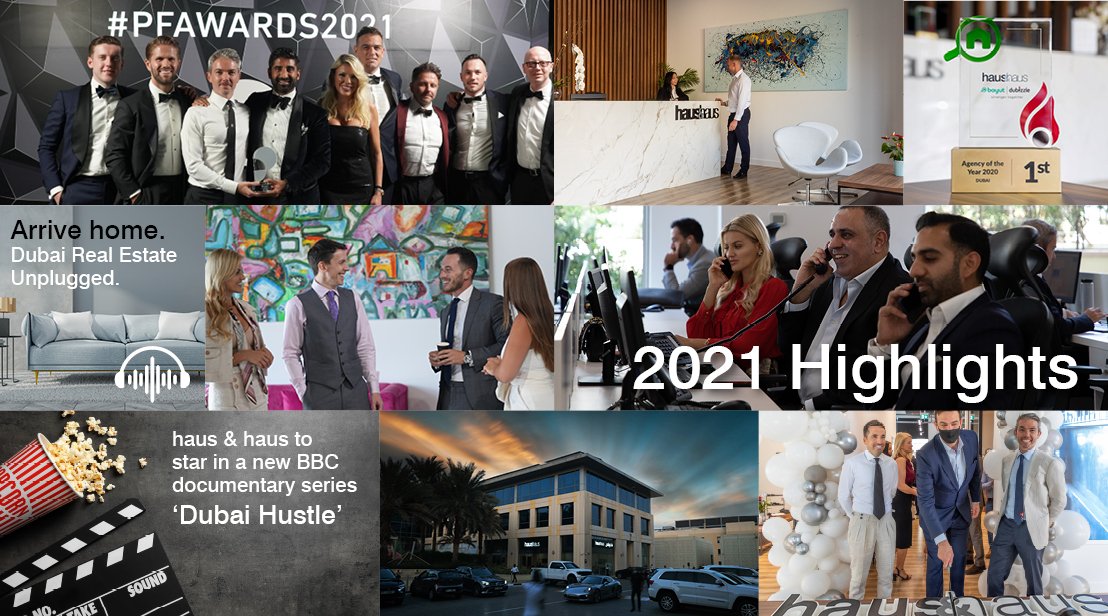 It's not easy in such a competitive real estate market like Dubai to stay at the top, but thanks to our go-getting team and a positive in-haus attitude we've had another fantastic year.
Among the many highlights of 2021, scooping the inaugural dubizzle/Bayut 'Agency of the Year 2020 Dubai' award back in April – a huge competition with hundreds of entrants – was undoubtedly a turning point. We also won second place in the hotly contested Property Finder awards for Best Quality Brokerage 2021 in November.
These awards validate the hard work of everyone in the company and show that even in the middle of a crisis like a pandemic you can achieve great things with the right mindset. They truly represent our unflinching commitment to quality and desire to be the best agency in Dubai.
If three words summed up the year for us it would be – growth, improvement, and technology.
Not only did our team grow exponentially – 120 hires this year (wow!) – but we grew physically too, opening a state-of-the-art new office in Gold & Diamond Park close to our headquarters. The 5,000 sq. ft. office houses the company's rapidly growing Off Plan, Property Management, Holiday & Short Term Rental, and Commercial departments – meaning the Residential Sales and Leasing departments at the HQ can further expand.
We also saw our creative Marketing Team blossom as we boosted our following on social media and launched our very own no-holds barred Podcast called Arrive Home: Dubai Real Estate Unplugged. Plenty more to come in this space so watch out for us online in 2022!
Talking of the digital age, this year our training and marketing experts also created an online learning package called Lighthaus which allows a combination of content types including video, audio, quizzes, surveys, and reading. It was created to ensure learners stay engaged while receiving relevant information to boost their individual skillset. We're the only real estate agency in Dubai to have taken training to this level – which makes us very proud.
So, what's in store for 2022? In short, too much to put in one blog post!
However, there's no denying the buzz in the air around haus & haus featuring in a new documentary style television show to be aired on the BBC in the UK in April next year. Called Dubai Hustle, the reality series will follow a number of our young British brokers and their stories of moving out to Dubai to fulfil their dreams of a better lifestyle and a prosperous future. We are honoured to have chosen as the agency to represent Dubai's famous real estate scene.
We know this is a big deal in terms of raising the profile of the company globally – but we're ready!
Don't miss the show... Viewing details coming soon, watch this space!
If you are looking to make smart property decisions in 2022 and beyond, put your trust in the company everyone's talking about. Get in touch today.
Whatever your real estate needs in Dubai, plan with the award-winning team at haus & haus. Get in touch today.