Harry, congratulations for winning this amazing Award! You've been truly outstanding this month. Tell us what you feel led you to winning this award?

"I am overjoyed to have won the award. This accomplishment is recognition for all of the hard work since coming to Dubai and last month specifically was a large task in itself making sure all clients were correctly dealt with. As any Leasing Broker in Dubai will testify, 20 individual transactions in one month takes an incredible amount of effort and resources to pull off."


You completed 20 transactions last month, you must have had some setbacks along the way what was your biggest challenge?

"The biggest challenge was making sure every client was being handled in the right way – professionally, with the haus & haus expectations of service, and the duty of care that I expect of myself to look after every person. Each client's needs is different and therefore needs to be looked after in different ways. I want every client to come back to myself and refer friends, family and acquaintances."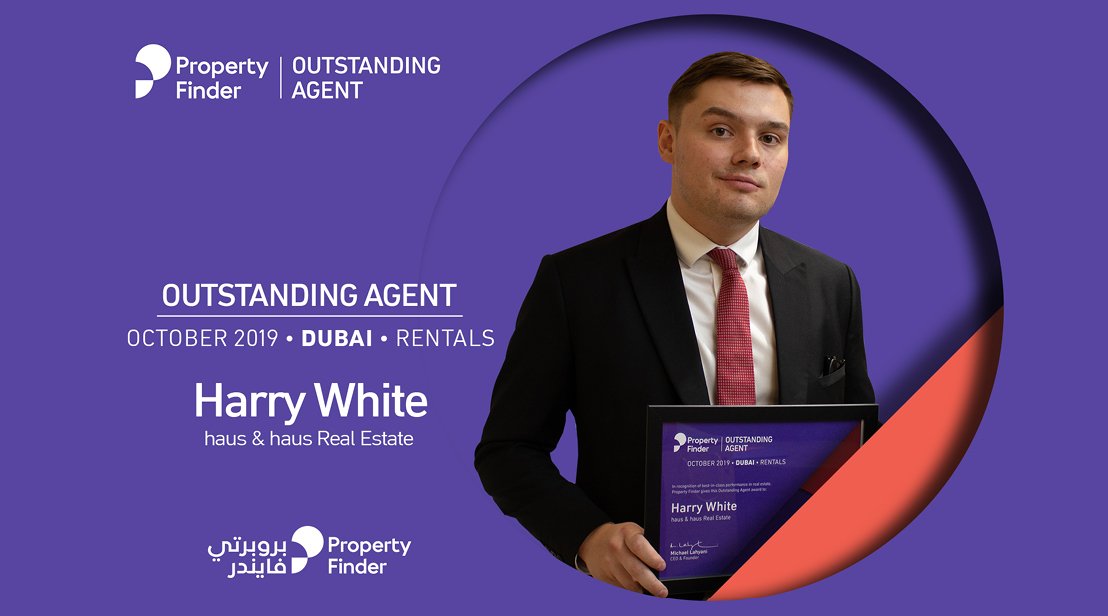 You've been constantly improving your personal performance since you've joined haus & haus. What would be your advice to others who just started in the real estate market and have the aim to grow their career?

"Stick with it. Keep working on your processes with Tenants, Landlords and negotiations. Communicate clearly and be organized. I have improved tremendously from working in this market."


Two of your colleagues, Matthew Solomon and Conor McKay, were also among the awarded Property Finder's outstanding agents this year. How big is the competition within the team? Do you believe you have to be a maverick or a team player to be part of the elite real estate brokers in Dubai?
"There is a lot of competition but in haus & haus it is 'healthy' competition. You need to rise to it and enjoy the challenge. You have to be a team player to make progress, and there are enough good people in our team to pick up useful nuggets of information which can help raise your game. The ability to work well with people makes a big difference."


Rumour has it you broke the Leasing record held at haus & haus last month, what inspires you to want to be one of the best?
"I always try my best, I want to do a good job on all aspects of a deal. I want the customer to be happy, and I want them to return. I set myself goals each month, which puts me under a bit of pressure which I like!"


What role does the agency behind you play in your success?

"It's huge – In every way I have had support from the administration team, my Directors and colleagues. I have had on-going support from haus & haus, and I like being part of the team. Not only from a professional stance, but my closest friends in Dubai are workmates which makes it feel like home."


How do you feel haus & haus view you winning this award, what value do they place on it?

"I like to be seen as a valued team member, and there is a great ambience in the office. The award carries a certain amount of value as Property Finder is the no.1 portal currently and people recognize the efforts that it takes to win amongst literally thousands of brokers. Whether those in the market, or people sat at home looking for a property. I am very proud of that fact."
We are looking for world class sales and leasing brokers. If that sounds like you and you see yourself working for an aspirational company, then contact us today!