The right choice
Our exceptional marketing department will make your property look the bees' knees when it hits the market, and our world-beating CRM system can showcase content created especially for your sale. Our listings generate lots of buyer interest, too, as we're one of the top lead-generating companies in Dubai (outperforming over 99.9% of our competitors). This translates into a steady flow of qualified and vetted clients viewing your property, which helps you achieve a solid market price. Each haus & haus broker is RERA qualified and knows everything worth knowing about the area they represent and can give sellers like you, useful tips for selling property. By totally understanding and appreciating the ins and outs of a community they always find the right buyer, a talent that depends on professional knowhow, excellent training and dedication to live and breathe the market.
We offer everything from a basic 'list-only' service, up to an all-singing-all-dancing 'exclusivity' package, where we act as your sole agent to achieve the unachievable. Most of our sellers take this service as it generally results in more buyer interest, a speedier sale and a higher sale price. If you want to fast-track your property sale and join our growing list of happy sellers, our brokers will tell you more about the benefits of exclusivity. With each sale, the legally trained haus & haus conveyance team guides you through the entire sales process, ironing out any wrinkles along the way. If you need it, we can also transfer your hard-earned pennies safely around the world at very competitive rates.
First steps
It usually takes between 4-8 weeks to complete a sale, from signing contracts to the buyer jangling a set of house keys in their hand. A quick sale can be achieved within a couple of weeks, but could take longer, depending on the buyer's situation and whether your property is financed. It's worth keeping this in mind when planning your next move. Take a moment to view your property through a buyer's eyes. Like most things in life, first impressions count, so spending a little bit of money modernising or repairing your property will add buying appeal and maximise the sale revenue. There's no need to fit solid gold taps in the bathrooms, just add a lick of paint, tidy the garden and quickfix small maintenance issues that could otherwise deter a buyer.
Find the right agent. Achieving a sale is much more likely if your agent is professional, proactive and understands your individual needs. Make sure the agent you choose has good market knowledge and a solid portfolio in the area, as well as a strong marketing budget and good lead generation. A good agent will clearly define how they intend to market your property and at what price. We advise marketing with a maximum of three RERA registered agencies, or alternatively, avoid any unnecessary headaches by 'going exclusive' to maximise the chances of a sale.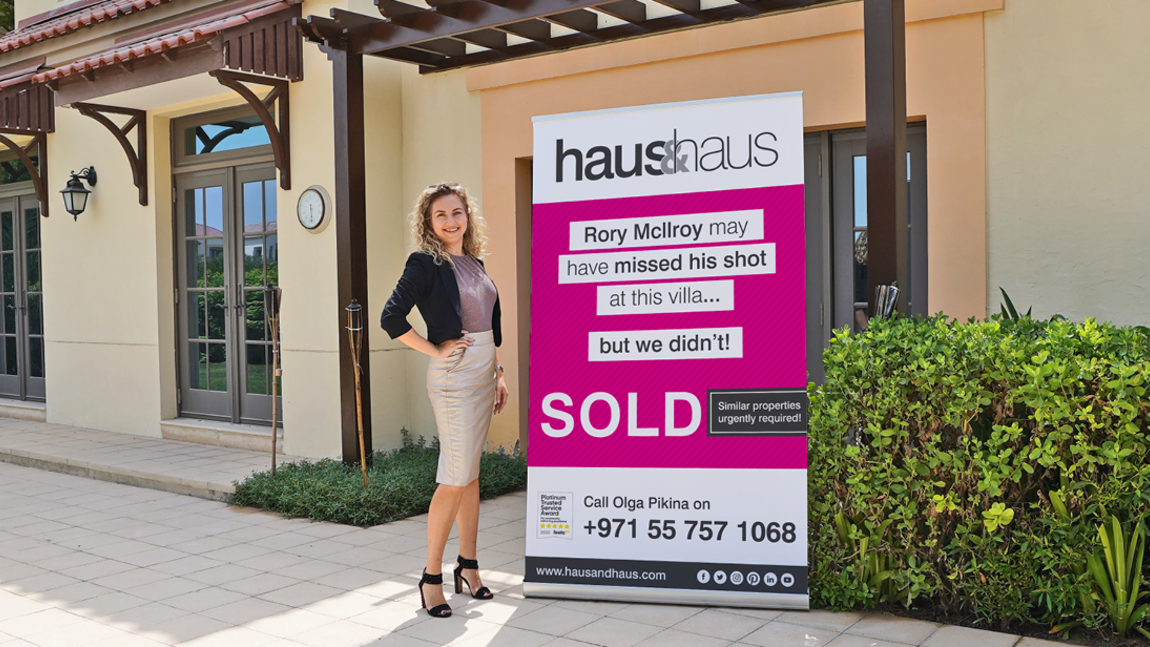 On the market
Make sure your property is clean, bright and accessible to view. It's essential your property is marketed professionally to a high level: generating more leads means more offers, but better qualified leads mean higher offers. We advise displaying a marketing board outside villas to let the community know it is for sale. Finally, be open and honest with your agent about pricing, clearly set out your expectations so they can negotiate effectively with buyers on your behalf.
Sign on the dotted line
Once a price has been agreed and a contract/Form F signed by both parties, the sale documents will be prepared, which include Purchase Sales Agreement, original title deed, floor plans and location map. Here's what happens next:
The seller and buyer sign a Memorandum of Understanding (MOU) through the real estate agent and the buyer pays a 10% deposit held by the broker. If financing is involved, the buyer's bank conducts an independent property survey to determine the buyer's loan amount, and to ensure the sale price is at a fair market level – a property assessment is required before transfer. Following the assessment, the buyer's bank issues a final offer letter (not required for cash buyers).
If the property is mortgaged:
The seller obtains a liability letter from their bank (cash sellers will not need this step), valid for 15 days. Once the liability letter is received, the buyer's bank pays off the seller's mortgage. The seller may be required to sign some documents, as advised by the buyer's bank or mortgage consultant. After mortgage settlement by the buyer's bank, the seller's bank issues clearance documentation, around 5 days after the loan has cleared. The buyer's bank must settle the seller's mortgage, prior to No Objection Certificate (NOC) application — which is the developer's consent that the property is free of debt, ties or liens and can be transferred.
All parties (buyer/seller/agent/conveyancer) meet at the developer's office to apply for an NOC. The property also requires clearance for any outstanding service charges. The NOC is submitted to the buyer's bank, which then prepares the final transfer documentation. All parties (buyer, seller, buyers bank or mortgage consultant, agent or conveyancer) meet at a RERA approved transfer center (or developer's office for property still under construction) to issue the buyer or buyer's bank a title deed with new ownership details.

As of January 2018, fees are subject to 5% VAT.
For more information about property management in Dubai, contact the haus & haus team on +971 4 302 5800 or email info@hausandhaus.com