It's going to get busy at Dubai Motor City as developer Union Properties (UP) prepares to implement a revised master plan for the extension of the already popular community early next year.
Union Properties recently signed a memorandum of understanding with the China State Construction Engineering Corporation (CSCEC) to jointly develop the new components, valued at close to Dh8 billion.

"We will source the funding through direct finance or financial market instruments," says Nasser Butti Omair Bin Yousef, chairman of UP.
Yu Tao, president and CEO of CSCEC Middle East, confirmed his company's commitment to the project. "We are willing to help in many aspects, as the financial market responds to most of our deals extremely positively," says Tao. "So we believe with our excellent relationship with local and international banks, we can bring in that Chinese factor, banks and insurance, as well."


The design phase
The project will take four years to complete and require an investment of Dh2 billion per year, according to Bin Yousef. "The first phase will be the Vertex, at the heart of the new master plan, 75 storeys high," says Bin Yousef. "This will become the landmark of Motor City."

The Vertex will be composed of five towers, including a five-star hotel and serviced apartments. UP's fully-owned subsidiary, Al Etihad Hotel Management, is starting its portfolio with three properties under development in Motor City and is expected to provide the hospitality services and take over the facility management.

On the residential side, more than 11,500 new units from 44 low-rise and high-rise buildings and around 150 villas are being planned. Businesses will appreciate the 300,000 sq m of office space that will be developed, while residents and visitors can take advantage of the expanded retail space.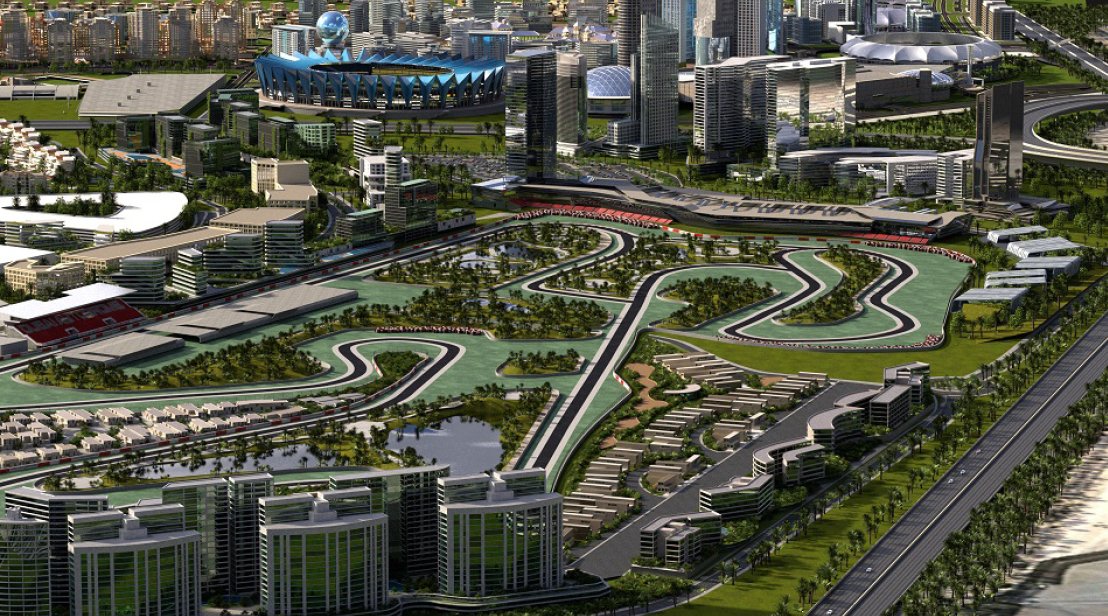 "We're not doing gimmicky architecture, but one where people like us want to live. It will look very much like a Green Eden project indoors; there will be plants and the air will be rich in oxygen," explains Huei.
A sporty lifestyle
Motor City is well known for the Dubai Autodrome, but it has also flourished into a green residential haven. "We want to re-energise the community," says Saw Ying Huei, consulting architect of UP. "Sport is one part of it. We want to make health and fitness a priority. Activities that you usually do outside, you'll be able to do that inside during the summer's hottest months. And it won't be just another ski or skating rink in a mall."
Huei says the design team is now fine-tuning the master plan. "The developer wants to innovate its old asset, which was the park. The empty land will now become a city. And what was originally going to become the Automall will now become mixed-use spaces," he says.

Union Malls, another recently created subsidiary of UP, will be in charge of what is to be known as The Central, a four-storey complex filled with shops, cafés and eateries, and a lot of leisure and sporty activities.
While motor sport is still part of the plan, there will be room for ultra-modern spacious cycling facilities, a super-sized swimming pool and a running track.
"It's not just about showing off cars; there is plenty of that but there are people who want to do other things," says Huei. Huei explains that landscape designers of Singapore's park project, inspired by Cornwall's Green Eden project, were involved. "We're not doing gimmicky architecture, but one where people like us want to live. It will look very much like a Green Eden project indoors; there will be plants and the air will be rich in oxygen," explains Huei. The hotels will also be sporty. "We'll be looking at sports hotel operators; they are already very popular in Mallorca and Asia, like Phuket," says Huei.
The park concept will have space for residential properties to be built around it. "All the best properties in the world are around parks. We don't want another huge massive project, that is not the point, but to re-energize the old master-plan."


This article was originally published here on gulfnews.com