My haus
The haus & haus mission puts our clients at the heart of everything we do. 1 happy client can mean 10 word of mouth referrals and a bright future, thanks to repeat business. A client-first approach has certainly helped my track record in winning the monthly haus prize for top performers, with prizes including sky dives and team brunches.
The approachable directors at haus & haus are always hands on – the family atmosphere and the 'work hard, play hard' vibe definitely comes from the top. I think our real estate agency is unique in Dubai, because although there's competition, there's support between brokers too. It's an aspirational, sociable environment with generous rewards. I joke about no days off being my secret to success but why go home?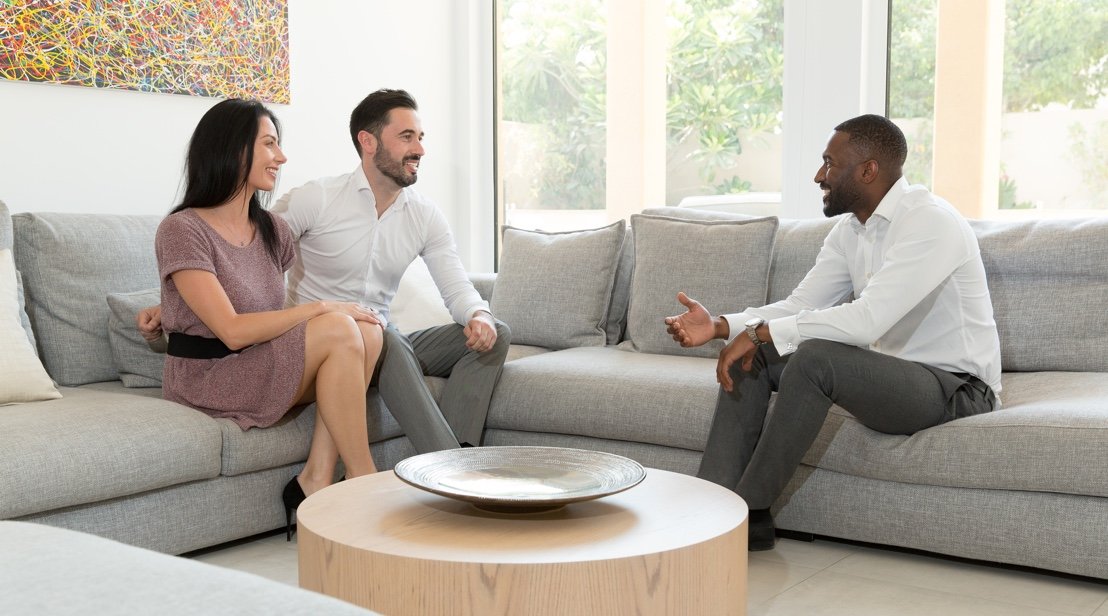 The secret to becoming a successful real estate agent in Dubai is to build expert knowledge of the Dubai community you work in
My Community
I'm a villa leasing broker in Victory Heights, Green Community and Villa Lantana, some of the highest quality rental property in Dubai. All 3 communities have their own character; for example, when you rent a villa in Victory Heights, you discover an established community, built Mediterranean-style around lush fairways. Properties range from 4 bedroom townhouses to spectacular 6 bedroom villas with private pools and breathtaking views. Communal pools, parks and access to the Golf Club, with its own restaurant and bar, make this the ideal home for any family or keen golfer.
At Green Community residents can switch off from city life in a leafy paradise that lives up to its name. Landscaped parks, communal swimming pools, gyms, tennis and basketball courts, together with shops, restaurant and bars, make this community my favourite.
Green Community villas to rent include sought after 4 bedroom bungalows, 4 bedroom townhouses and 6 bedroom luxury villas.
Property to rent in Villa Lantana provides new age villa living. The community offers 18 design types from 3 bedroom semi-detached units to large 5 bedroom homes, occupied by mix of families making their move from an apartment to a villa, or from an old-style villa to a contemporary, light-filled home. Conveniently located between Hessa and Umm Suqeim Streets, Lantana affords easy access to Downtown, Dubai Marina and a number of highly rated schools.
The secret to becoming a successful real estate agent in Dubai is to build an expert knowledge of the Dubai community you work in. So although all 3 of my communities appeal to families, it's the little details that achieve a perfect property/tenant match.
My #Dubai
Everyone talks about their weekend brunch plans in Dubai! It's a perfect example of the fantastic life you can have here. For me, it's about working hard all week, then rewarding myself by seeing friends for great food and drink in a beautiful setting. If I don't have Dubai rental property viewings booked, my perfect Friday brunch is Wanderlust at JW Marriott.
Whether you brunch with family at your Dubai villa, or friends at your beach club, anything's possible. That sense of opportunity is everything I love about working at haus & haus. I couldn't achieve Senior Consultant status this fast anywhere else.
Talent, hard work, passion and empathy are rewarded in equal measure at haus & haus – one of many reasons our buyers, sellers, landlords and tenants get the best service.