The importance of Ramadan – Ramadan Mubarak to everyone! This is a truly special time in our region, in Dubai or the UAE. However, if you're a newly landed expat or a tourist visiting the UAE for the first time, there may be some aspects of the holy month you're unsure about. So, here's a helpful guide – bearing in mind this year things are a little different due to the pandemic.
Ramadan is considered one of the holiest Islamic months and is one of the five pillars of Islam. It's a time of fasting for Muslims – not eating or drinking anything during daylight hours. It's also a time of intense prayer and personal reflection as followers bring themselves closer to Allah.
The spirit of Ramadan means people become more aware of their actions by avoiding gossip or negative feelings towards others. You'll notice a beautiful feeling of calm and wellbeing in the air. If it's your first-time experiencing Ramadan it will likely leave a strong impression.
Ramadan is the ninth month of the lunar Islamic calendar. This year, Ramadan began on Monday 12 April and is likely to end on Wednesday 12 May. A new crescent moon marks the start of Ramadan, while a new moon sighting signifies the end.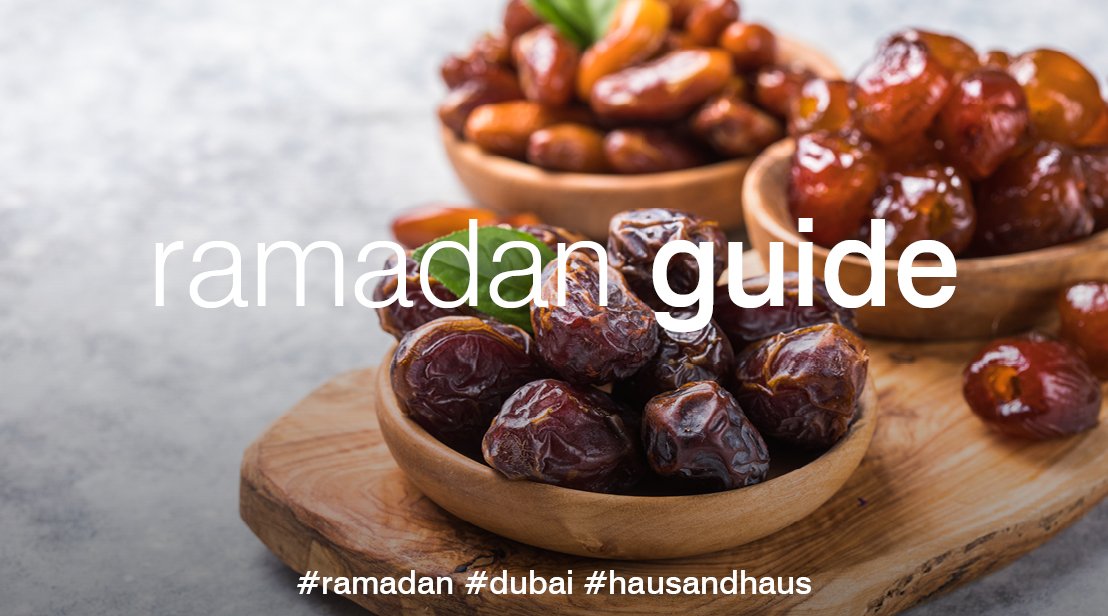 A guide to the main terms of Ramadan 2021
Iftar – This is the meal at sunset where Muslims break their fast. Most restaurants offer amazing buffets with a wide selection of food, so it's a great opportunity to sample some traditional fare and soak in the happy vibe.
Suhoor – This is the meal before Muslims start the fast – a very early breakfast before sunrise. It usually takes place at home with the family; however, you will find some restaurants open for suhoor.
Maghrib – This is the prayer performed at sunset that marks the start of iftar when Muslims are able to eat again. Quite often the TV will show Ramadan timing and countdowns.
Fajr – This is the first prayer as the sun rises, marking when Muslims need to start their fast again.
Taraweeh and Isha – Taraweeh is an evening prayer performed during Ramadan, in addition to the nightly Isha prayer which is one of the five daily prayers.
"Ramadan Mubarak" and "Ramadan Kareem" – Ramadan Mubarak means "Blessed Ramadan" and is often used in the same way as wishing somebody "Happy Ramadan". You'll also see/hear "Ramadan Kareem" which translates as "Generous Ramadan." Both are warm greetings that you can offer.
Staying respectful

Stick to the rules by not eating, drinking, or smoking in public during daylight hours (there may be a fine if you do!) – restaurants are open though (see below). You should also dress more conservatively.
Don't play loud music from your car and keep your headphones volume down as it may be considered offensive to those who are observing Ramadan.
Just use common sense and you'll be fine.


Shops, restaurants and attractions
While most businesses are operating as normal and you can enjoy what Dubai has to offer, due to COVID-19 it's important to stick to social distancing, masking and hygiene rules as laid out at hotels, grocery stores, restaurants and malls etc. Everything will be well signed so there's no confusion.

Some restaurants may be closed during the day.

One big change is that in past years all eateries had to use screens and curtains around the front of their establishment during the day to keep the serving of food private. In Ramadan 2021, this will no longer be the case – as confirmed in a recent announcement by Dubai's Department of Economic Development.


Ramadan 2021 Dubai: What else will be different due to COVID?

Thankfully, we're starting to move past the pandemic, but the UAE government is ensuring people stay safe by issuing some strict rules for the holy month.
Here's the COVID-related updates from the Dubai Supreme Committee of Crisis and Disaster Management you need to be aware of:
• Hosting or attending large gatherings is strictly prohibited during Ramadan 2021
• Elderly people and those with chronic diseases should avoid family visits and social gatherings
• Iftar and suhoor should be shared only by relatives living in the same house
• Ramadan tents, iftar tents, and donation tents are not permitted
• Setting up tents at home and gatherings in Ramadan is also prohibited
• Taraweeh prayers can be performed in mosques provided worshippers continue to observe precautionary measures like wearing face masks and physical distancing
• The maximum duration of prayers in mosques (Taraweeh and Isha) is 30 minutes
We hope this gives you a better understanding of this special time in the Middle East. Are you looking to try some of the tastiest iftars in Dubai? Check out our guide for the best Iftars and Suhoors in Dubai: