The Special Six
The competition was very, very tight in places and less so in others. The 6 that made the final cut were Calvin, Paul, Ben, Olga, Peter and Harrison. All have worked tirelessly for the haus & haus brand and we wanted to give them a real treat.
A special mention must go to the team here as a whole as there were so many that could, would and will be in this selection in the coming years – we truly have a super team and business aside, some very strong friendships within the company that most could only aspire to.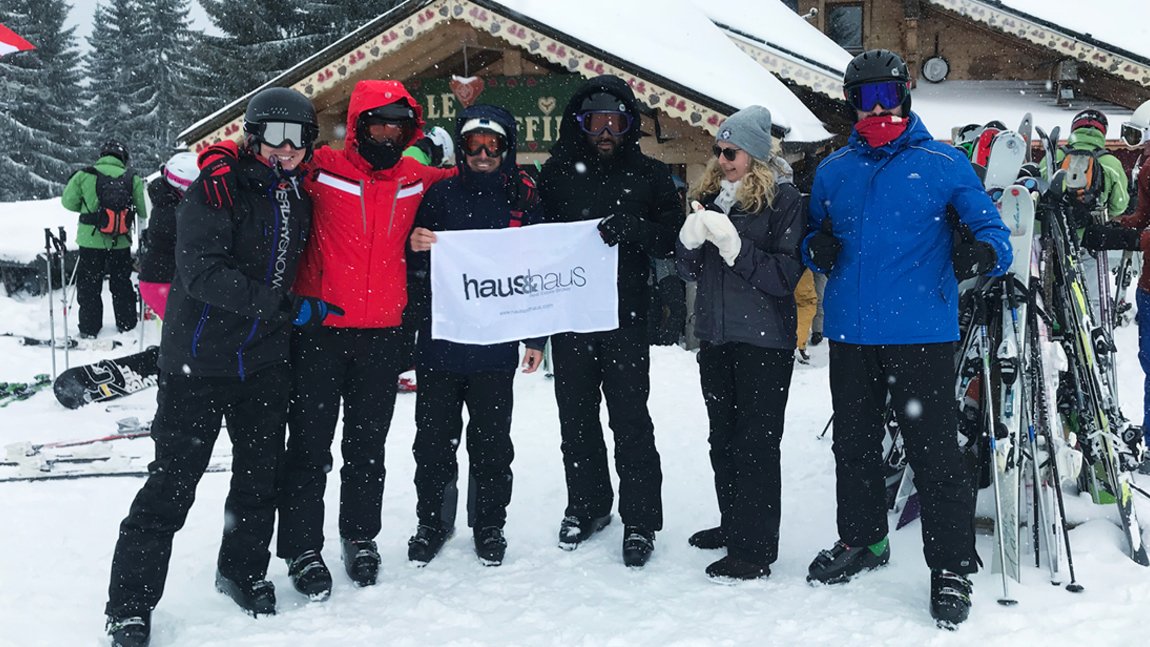 The Lodge
The Directors wanted an experience that would be truly unforgettable and after much deliberation thought a ski trip would be the ultimate contrast to the heat, hustle and bustle of Dubai. The research was plentiful and we eventually found our gem – the newest, most luxurious and contemporary lodge in the Portes Du Soleil (650km of ski area in the French/Swiss Alps). This wooden masterpiece was 5 years in the making and an architects dream. Think glass and exposed beams, open fires, mixed floor levels, cinema, gym, sauna, massage room and the central focal point – a 70ft indoor/outdoor heated pool with a separate Jacuzzi. It was dubbed the 'James Bond Lodge' by local press. The property was set in a prime position 100m from the slopes and had fully inclusive catering service provided by a private (Michelin star trained) chef. Yes, it was the absolute business!


The Lowdown

The level of skiing was mixed to say the least! Ben 'cannonball' Brooks caused lots of laughs with his no-holds-barred technique and some were super smooth for the amount of time they have spent on the slopes. Some found the après more suited to their abilities and barely touched the blue's, red's and black's!


We can honestly say that what we set out to achieve 100% came true – a one-off, unforgettable trip that was unrivaled – well, at least till next year!
We are excited what 2018 will bring and where it will take us.
If you would like to be part of the haus & haus team and have the opportunity to come away in 2019…